Managing your art collection just got easier.
Keep all important details and documents in one secure place with end-to-end encryption. Easily track your collection's value over time with our dynamic charting tools.

As active collectors ourselves, we built this platform as the solution to the daily struggles we've faced over the years. Now our key documents are always accessible, and the collection's value over time is easy to track and visualise.

We are confident that as a fellow collector you will enjoy using Artscapy and find its intuitive features unbeatable both in terms of quality and ease of use.
I used to log my collection in spreadsheets, but it quickly became quite messy as I've bought and sold works. With Artscapy's collection management system, I can stay on top of it all with everything in one place!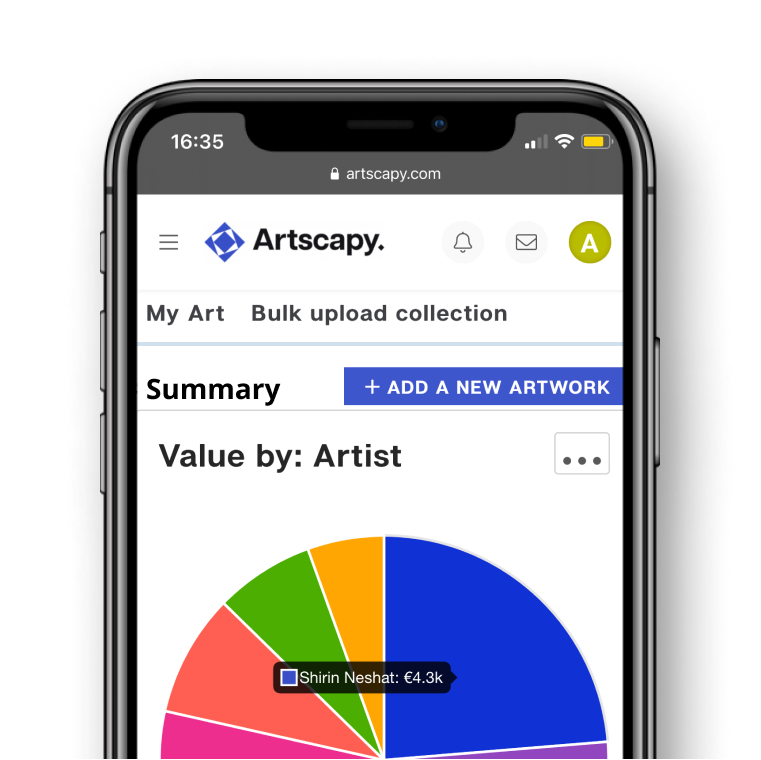 Built by collectors, for collectors
VISUALISE EVERYTHING IN ONE PLACE
Keep all key details and important documents for your artworks in one location so you can find what you need quickly, whenever you need it.
END-TO-END ENCRYPTION
Artscapy's collection management system uses end-to-end encryption, so all details and documents you upload with us will always be safe and secure.
TRACK THE VALUE OF YOUR COLLECTION
Our dynamic charting tools allow you to visualise your collection's value over time, log appraisals and gain detailed insights on your collection.
MARKETPLACE - COMING SOON
List a work for sale directly from the collection management system with just a few clicks, or buy from other vetted sellers. Every artwork listed undergoes strict due diligence.
Before joining Artscapy, I had to maintain several different accounts on various sites for collection management. Now, I can find everything I need as an art professional in one intuitive platform, so I can easily advise my clients on specific artworks as well as their collection as a whole.