 Artscapy.
The first platform dedicated to the needs of art collectors, accessible in one Art Account.
Who we are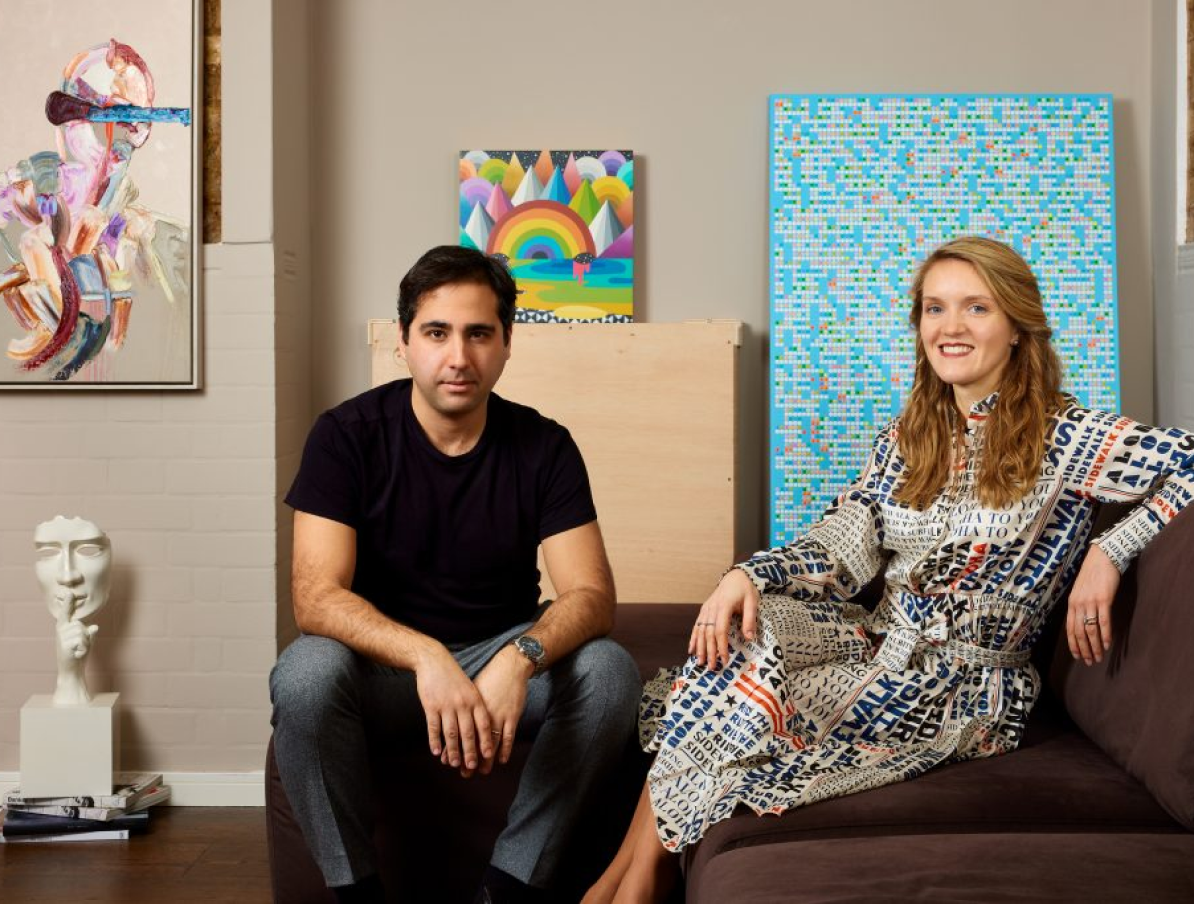 Founded by collectors, built for collectors.
We share the passion and enthusiasm that drives art collectors. Having experienced first-hand both the joy of collecting art and the pain points in the process, such as hidden fees and tedious bureaucracy, we set out on a mission to make art collecting and investing accessible, safe, and enjoyable. Our platform was born from the shared vision of two individuals with different backgrounds - Alessandro in digital businesses and Emilia in finance - united by their love for art.
We are guided by a set of core values
Collector first: Your needs and aspirations. We are committed to supporting your collecting journey end-to-end with seamlessly integrated digital features and access to our expert art advisors every step of the way.
Transparency: We believe in removing barriers to enter the art world by always being transparent with our processes and pricing. No hidden fees should discourage collecting art.
Convenience: Artscapy is the all-in-one solution for each collecting need and every collector. From managing your collection, obtaining expert valuations of your artworks, protecting your collection with insurance, to helping you with art buying and selling.
Security: The security and privacy of our collectors and their art collections are of the utmost importance to us. That's why we have implemented a state-of-the-art data security infrastructure and multiple privacy filters. None of your data is ever shared with third parties.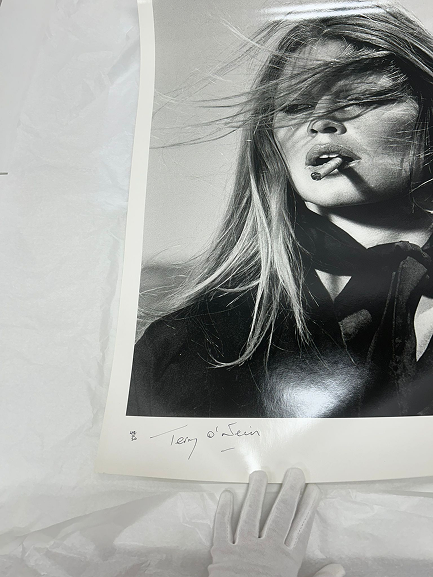 £120M
+
Value of art logged
250
+
Valuations delivered
WHAT WE DO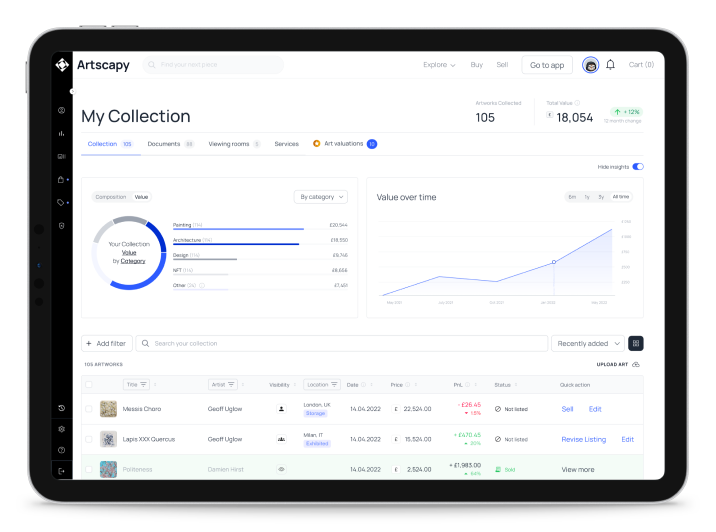 One of the major issues we aim to address is the opaqueness of the art market. Hidden fees, undisclosed costs, and additional charges often inflate the price you think you're paying, with as much as 50% added on top.
We have developed a fully transparent platform with no hidden costs: All-inclusive price including insurance on all artworks purchased, buyer protection, multiple secure payment options, 14-day money back guarantee and a 24hr cancellation policy.
Navigating this vast landscape can be incredibly inefficient, consuming valuable time and resources. Additionally, the market primarily focuses on the supply side, leaving collectors in need of reliable data and tools to aid their decision-making process.
The Art Account provides you with all the necessary data points and tools to empower your decision-making process. Rest assured, we meticulously verify artwork conditions, authenticity, and provenance, so you can buy, sell and trade with confidence, knowing that every detail has been thoroughly checked.
We've tackled these challenges head-on, eliminating hidden fees and simplifying the tedious bureaucracy that often accompanies art acquisitions with one simple Art Account.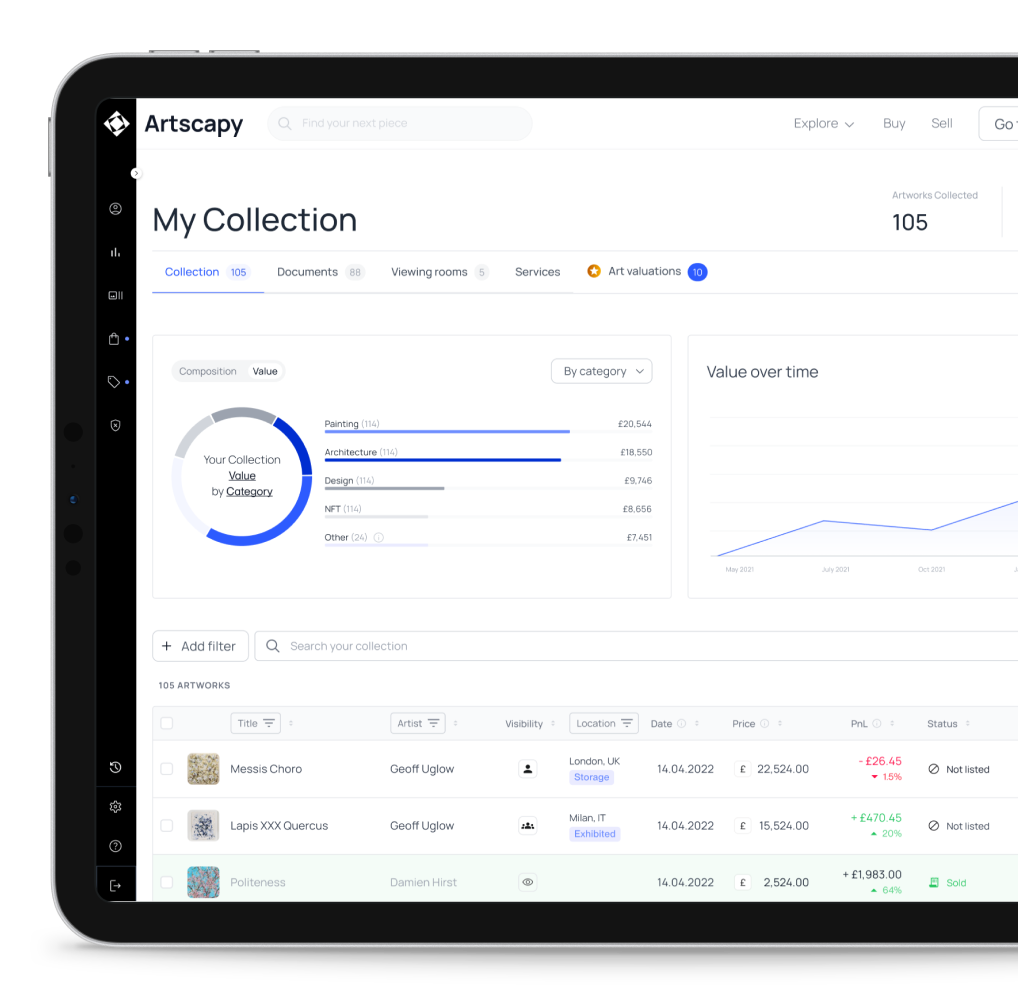 The Artscapy Team
Our platform wouldn't be what it is today without the incredible individuals who make up our dedicated team. Together, we share a deep passion for art and a common goal of improving the art collecting experience.
Meet Alex
With a background in digital businesses, Alessandro's innovative thinking and strategic insights drive our vision and platform development, ensuring that it remains at the forefront of technological advancements. As a passionate art collector, Alessandro focuses on alternative assets and investments. His unwavering commitment to putting collectors first has led to an intuitive and seamless art collection and management experience for our users.
Favourite Artwork:
Tomás Saraceno, 'Cloud' Series
Trusted by thousands of collectors.
"
I'm very impressed with how comprehensive Artscapy has been in tackling every step of art collecting in one platform. If you're serious about art, this is the place for you.
Verified user
"
Thank you so much for this platform. I love how simple it is.
Verified user
Learn more about Artscapy.